TDS meter AP-1
What meter to choose? Detailed info and video
Measures total dissolved solids (TDS) and temperature.
Automatic Temperature Compensation (ATC)
Measurement Range: 0-5000 ppm
Auto-off function after 5 minutes, data-hold function and low-battery indicator.
Display: large and easy-to-read LCD screen includes simultaneous temperature reading.
Factory calibrated with a 342 ppm NaCl solution. The meter can be recalibrated using the push buttons and a calibration fluid.
Specifications
Range: 0-5.000 ppm (mg/L)
Temp: 0-80 °C; 32-176 °F
Unit: 1 ppm; Temp. unit 0,1 °C/F
Accuracy: +/- 2%
Conversion Factor: NaCl (avg. 0.5)
Battery: 1 x 3V button cell CR2032
Dimensions: 15x2.8x1.3cm (5.9x1.1x.5inches)
Vægt: 42.5g (1.5oz)
Water proof and magnetic
Convert between ppm and µS (micro Siemens): For HM Digitals meters: 1 ppm = 2 µS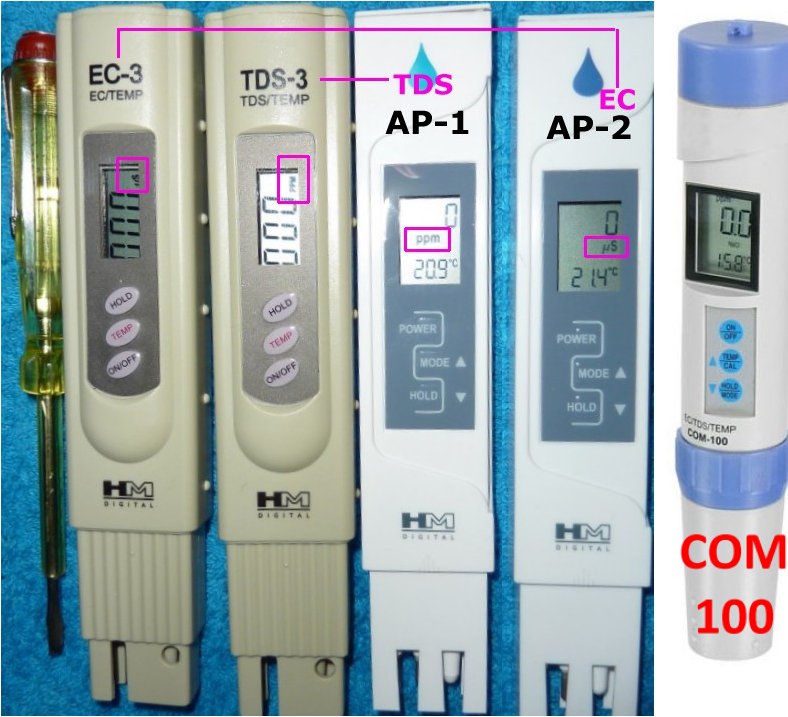 AP-1 is in relation to TDS-3 newer, smarter, nicer looking, thinner, magnetic and water resistant (NOT waterproof), but with smaller digits in the display, that have to be read vertical. On the TDS-3 the numbers are displayed along the meter - look at the photos or the video, then you know, what I mean.
TDS meter AP-1
Hersteller HM
Artikelnr. AP1
Lager 14
Ähnliche Produkte